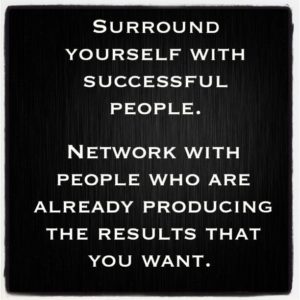 Surround Yourself With Success!
This episode is a personal testimony of how I personally reached out to someone who is 'where I want to be'!!
Now, before diving too deep into this….remember, success holds different meanings for each of us. It's not all about status, money, or material objects.
The success you seek in your life can range anywhere from parenting, spirituality, to fitness and diet.
Well, this past weekend I had a phone call with a guy who is highly successful in what he does….so much, I found myself a little nervous once I realized the type of influence he has….which is "exactly" where I want to be for myself!
The nerves came from not being where he is at…..but I still had to take action
The message here is to face your fears, no matter the unknown result!
After having reached out to this highly successful dude, (who is cool as shit) there is one thing I learned from him, as well as other guest we've interviewed here, that I hope to never lose…..Know where I came from, and never forget the time these individuals freely gave of themselves! (and they limited their time, which was highly respected as well)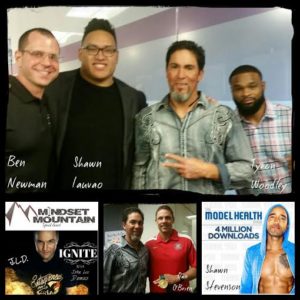 Ben Newman gave of his time, as well as an opportunity to share his story and to introduce Jason and myself  to Tyron Woodley of the UFC, Shawn Lauvao of the Washington Redskins, and Dan O'Brien the 1996 gold medal winner in the decathlon!
Shawn Stevenson shared his nuggets of value on here, not to mention recently hit 4 million downloads on his #1 ranked podcast. Not only did the revision of his book "Sleep Smarter" just come out, he's interviewed guest such as E.T. The HipHop Preacher and Bob Proctor on his podcast….The Model Health Show!
And of course, we can't forget John Lee Dumas of the top podcast, "Entrepreneur On Fire" who just recently recorded an episode with Tony Robbins!! Oh, and the beauty of our recording with him was that the day our episode went live…..he was featured in Forbes.com for his success!
If you think there wasn't a slight fear in being rejected (so to say)…..then you're wrong. The truth is, there are several others who I've yet to hear from…..but that's ok.
Never quit….and continue to surround yourself with those who are where you want to be in various areas of your life.
Take chances by leaving your comfort zone….
It's part of the climb.
Listen In!
To Subscribe:
~~Eddie
P.S……And feel free to me: Eddie@Mindsetmtn.com
Or my brother/co-host, Jason 'J-Boom' Legaard: Jboom@Mindsetmtn.com
Podcast: Play in new window | Download | Embed