Just Don't Stop. And maybe just be too damn ignorant to quit!
In this latest solo shot of The Mindset Mountain Podcast, I go into a pretty tough topic for anyone who is pursuing a dream.  Something outside the norm.
It has to do with the finding yourself pushed to your limits… at the very edge of a cliff of uncertainty and fear… wondering if you can keep standing.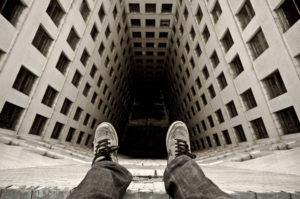 Especially when you're feeling as if you've done all that you can so far within your abilities and hard work.  What does it take to be teetering on the edge… and still step back and never stop PLAYING BIGGER.
I dive deep into this concept as I was reminded of some feedback Eddie and I received from a former guest and friend Vince Reed.  You'll hear how he shared some intense feedback about the 99% of everyone else who do fall off that cliff of broken dreams.
And believe me… we understand what that feels like… we're had our fair share of staring out into the abyss.  We know how you might be caught up in constant frustration and wondering why nothing seems to go your way.
You might be at the very edge yourself in this very moment.  Wondering why in the hell should you even keep trying.  This episode is here to remind you to just don't stop.
Just don't stop on everything you've already started and worked so hard for in the past.  Instead stand tall in the knowledge that you won't be one of the 99% that fall off.
For if you simply keep pushing just a few inches more… the rest of your competition will vanish.  It will be you left behind, ready to play even bigger and reap the massive rewards!
And you'll hear how you can challenge yourself to be too ignorant to quit and secure yourself in a position of still standing tall for your success.
Dig into this latest solo shot to fire up your Monday Mojo!
Gratitude is the Attitude that Gives Our Dreams Altitude!
Jason "J-Boom" Legaard
 Time to listen in!
And now you can find us on Google Play as well!
In fact, We put together a couple of special pages with all the step by step instructions on how to both Subscribe and leave us a 5 Star Review on iTunes.
Podcast: Play in new window | Download | Embed