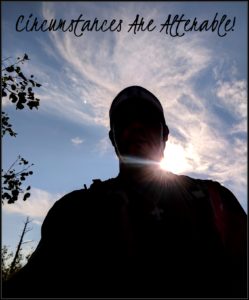 "We should not fear an obsession for building a great and free life…..vision trumps reality; dreams have more weight than circumstances because circumstances are alterable with enough sweat and toil and dedication."~~Brendon Burchard 'The Motivation Manifesto'
As I was looking for something to speak upon, I opened up to the first part of the quote above. As I skimmed through the remainder of the book to see what I highlighted that grabbed my attention as I read through this book, I found the second part of the above piece.
So, what does all this mean?
The first part has to do with wanting more out of life. There are many of us that want more out of life and are afraid to openly say so. It may be material, such as cars, a home, or something as simple as a nice pair of sunglasses. The other aspect may be the freedom to travel wherever and whenever we want to.
The second part of this has to deal with realizing our current circumstances do not reflect our lives as a whole. If life is great at this moment, this will not always be the case if we choose to settle once we feel we've reached our destination. The other aspect is that if life causes us to feel as it is against who we are and what we want, this can be altered through intentional effort to work ourselves out of the hole we've fallen into.
The fear of obsession for wanting more for ourselves may bring guilt to us as we realize that what we have in our current situation is not satisfying. This means acknowledging that some of our friends and family who are content and lack drive might be left behind in our journey towards our dreams. It might mean that we've failed many times over up till now, and this could continue if we make another attempt to step away towards who we want to be.
Tip: Don't fear the obsession to work towards 'YOUR' dreams!!
Time To Listen In To Eddie's Solo Shot!!
And now you can find us on Google Play as well!
In fact, We put together a couple of special pages with all the step by step instructions on how to both Subscribe and leave us a 5 Star Review on iTunes.
Podcast: Play in new window | Download | Embed