Goal Setting.
It's easily one of the most important and talked about topics in all of personal development and mindset mastery.  I mean how many times have we heard that it all starts with the setting of the goal?  Probably a bajillion times. (yup… a BAJILLION!)
And we've also heard how we must set the goal, our mountain top, and visualize and focus intensely on it daily.  Look at the top, look at the top, LOOK AT THE TOP!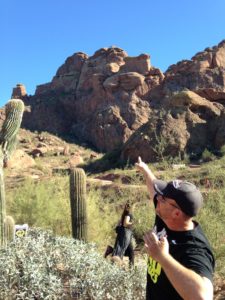 Well today I wanted to share with you a trap that I've fallen into in the past too many times to count.  You see we can get so fired up, so inspired staring at the mountain top and what it represents (success) that we forget to ever start hiking up the damn hill!
So learn how to use both sides of the coin when it comes to your goal setting.
Focus on the "heavenly glory" that is the mountain top.  But make sure that you spend even more time staring at the two feet below and how you are stepping daily to get yourself up to that summit.
All I know is I don't want you to hit your goal deadline down the road months or years from now and realize that the view never changed.  I've felt that pain of regret… and it flat out sucks! lol
So make sure you soak in the value of this solo shot episode on another Tactical Tuesday.  Let's get you goal setting with a whole new practical and tactical approach to make every day your #timetoclimb.
Gratitude is the Attitude that Gives Our Dreams Altitude!!!
Jason "J-Boom" Legaard
Podcast: Play in new window | Download | Embed