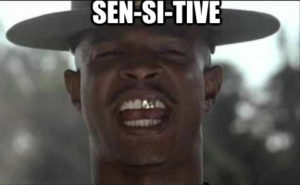 Sensitive….Or Simply Butthurt?
Now….Now! Have we decided to make fun of those who may be overly sensitive?
Listen….we get it! We understand sensitive, and even being a lil butthurt about events or scenarios in life……but when and how does it end?
When will those around move forward with their goals and dreams as they begin to create the life they're meant to live for the betterment of themselves and others as they begin to exclude you from their lives because of your always being overly sensitive?
This isn't an episode to make fun of the sensitive, because we all have certain aspects of life that are sensitive to each of us. But when does crying and complaining and the butthurt about shit you can't and will not change……end?
This episode challenged us…..it challenged us as life challenges others in always having to watch what they say around those who may be hurt in what was said, rather than find the lesson in the message.
Listen in to hear some tips on how to deal with those in your life who are always 'butthurt' about what others say and do……
As well as how to shift your mindset from the 'victim mentality' to that of abundance.
The main question you have to ask yourself is this….."In the whole scheme of your life, how important is it really which is causing you a great deal of discomfort?".  Are you pouting or in true pain?
The question is for you to answer.
Time To Listen In!!
Don't forget it's time for you climbers to step up to the base of the mountain and join in with this community of like-minded individuals who are not only striving for  something more, but also have value to offer the community at Mindset Mountain On Facebook!
And if you haven't already be sure to subscribe to Mindsetmtn.com/itunes or Mindsetmtn.com/stitcher so these episodes automatically download to your devices. And you can follow the podcast on Facebook!
Podcast: Play in new window | Download | Embed