Conor McGregor.  We all want to be him… even when we don't.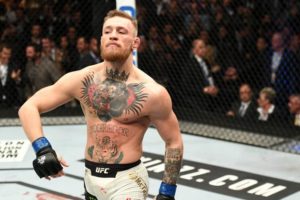 Yup that's right.  All of us want to be just like Conor McGregor even when we hate him.
As I watched UFC 205 at Madison Square Garden in NYC this past weekend, it struck me solid in my jaw like a Conor over hand left.  Conor McGregor has what we all want.  And believe me it's hard for me to admit that as I've never been a fan of him.  Ever.
In fact, pretty much everything he does annoys the shit out of me.  The swagger walk as he enters the ring like in the photo above.  The constant, never-ending trash talking to his opponents.  The fur coats and what seems to be a complete and utter disrespect of everyone around him.
So yeah… I'm not a fan.  And yet, I have to respect him and what's he's accomplished.  He's THE top fighter as far as popularity in the UFC.  He just became the only person to ever hold the championship belt in 2 different weight classes at the same time.  He's made millions of dollars off his hard work, skills and his brand.
And that's why even though I hate most of what he stands for… I want to be like him because of his results.  Let me clarify that last point.  His unapologetic results.
You see in the end we all want to be like him.
He has put in years of blood, sweat and tears in training to become one of the most skilled fighters in mixed martial arts.  The concept of lazy doesn't enter his mind.
He has a level of self-worth, self-esteem and unstoppable confidence.  Even when he lost to Nate Diaz earlier this year, it's like it didn't matter in his world.  Immediately after he was exactly who he believe himself to be again.  His confidence didn't waver… it only set itself further in stone in his mindset.
Finally he says what he wants and does exactly that… nothing less.  And he takes those actions no matter the consequences.  He is in complete control of his life.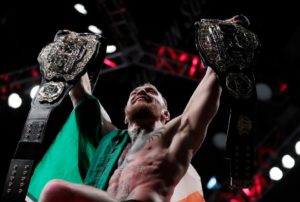 And that level of intense control, confidence and clarity of purpose is why we all want to be just like Conor McGregor.  Even me.
Even though I still kinda hate him.
Gratitude is the Attitude that Gives Our Dreams Altitude!!!
Jason "J-Boom" Legaard
Time To Listen In!
Don't forget it's time for you climbers to step up to the base of the mountain and join in with this community of like-minded individuals who are not only striving for  something more, but also have value to offer the community at Mindset Mountain On Facebook!
And if you haven't already be sure to subscribe to Mindsetmtn.com/itunes or Mindsetmtn.com/stitcher so these episodes automatically download to your devices. And you can follow the podcast on Facebook!
Podcast: Play in new window | Download | Embed