Demanding Of Others!
All of the inspiration of this goes to Eric Thomas, otherwise known as E.T. The HipHop Preacher!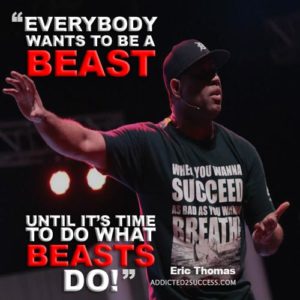 The question is how demanding of others are we, rather than hold the expectations or demands of ourselves?
Don't You Dare Fail Me!
Don't You Dare Let Me Down!
My Expectations Of You Are High, So Don't Lose My Respect!
Does any of this sound familiar?
Your Success Is Dependent Upon You And Your Actions
Hold Your Self Respect At A Higher Level Than That Which You Hold On Others
Critique And Dissect Your Life And Actions, Rather Than Continuously Critiquing Others
Show Others How It Is Done, Rather Than Tell Them How It Is Done
We all have an aspect in life which we have mastered.
We all have aspects in life which we have struggled.
Know your strengths and weaknesses…..share the knowledge from that of your strengths, while seeking knowledge from others to improve on your weaknesses.
Time To Listen In!
Don't forget it's time for you climbers to step up to the base of the mountain and join in with this community of like-minded individuals who are not only striving for  something more, but also have value to offer the community at Mindset Mountain On Facebook!
And if you haven't already be sure to subscribe to Mindsetmtn.com/itunes or Mindsetmtn.com/stitcher so these episodes automatically download to your devices. And you can follow the podcast on Facebook!
Podcast: Play in new window | Download | Embed