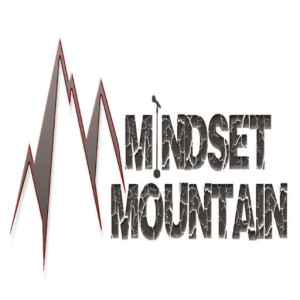 That image above you see of course was our first logo for The Mindset Mountain Podcast.  But over time, we realized we needed to pivot, to change or reframe our vision for that logo.  Eddie and I had to make adjustments and changes in order to grow as a show as well as personal development leaders.
That's why today with this Wednesday episode we decided to sit down with you and share a sort of "state of the mountain address" discussing a few updates and improvements with the podcast, our products and services..hell even ourselves!
You will hear us touch up on the following:
 How we must at times crunch the numbers, the stats and take a hard and honest look at what they reveal about the current reality.  And how to have the courage to even step back in order to move forward into progress.
You'll hear about some bold and amazing adjustments with our personal development training product, Climbing the Mindset Mountain.  Even how we will… oh dear lord… be raising the price!  You will also learn how to no longer devalue your own self worth.
We will spend a bit of time touching up on the power and passion behind our one on one coaching calls.
Lastly, we wrap up sharing how we want every single one of you to maximize your life experience with our phenomenal guests by simply "pressing send" in an email or message.  We want to hear the success stories after you've connected with our guests on an even deeper level.
So with that, it's a wrap on this one.  Stay tuned as I will be back with another Inspire the Fire Friday episode.
Until then… TIME TO CLIMB!!!
BOOM!
Gratitude is the Attitude that Gives Our Dreams Altitude!
Jason "J-Boom" Legaard
P.S. If you want to reach out to us with questions or are in need of our one on one coaching, just drop us an email.  eddie@mindsetmnt.com or jboom@mindsetmtn.com
Podcast: Play in new window | Download | Embed