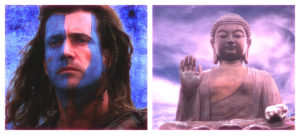 Braveheart, Buddha and success.  Does it take both types of personalities and perspectives in order to become a success in a complete and balanced way?
This is the question that came up in my mind just yesterday as I was listening to The Tim Ferriss Show podcast.  Tim was interviewing Sebastian Junger, author of The Perfect Storm among other thought provoking tales.
In fact, before I go on here is the link to that interview.  It is well worth the listen this weekend. http://fourhourworkweek.com/2016/05/22/sebastian-junger/
"Who would you die for? What ideas would you die for?" – Sebastian Junger
As one point of the podcast, Sebastian Junger speak on how throughout history we have asked our leaders, specifically our President, to be a split personality in order to succeed.
One one hand, during times of war they are to be decisive, intense and be able to tap into the warrior mindset that is able to unleash violence.  To be able to strike down an enemy to our freedom with no hesitation.
But during times of peace, to have the ability to keep a calm demeanor, to strive for diplomacy and empathy with the world.  How on earth can both sides of this coin reside in one man or woman?  It really made me dive deep into my thinking on this topic.
So listen in as I share my perspective how in order to be a complete success in our lives, we must be the balance of Braveheart and Buddha.  For their are times to be a healer and their are times to unleash hell on our enemies.  Especially the darkest of enemies within that threaten our entire freedom to pursue greatness.
So will you pick up the battle axe and the prayer beads?
Can you carry both?
Let's find out.  Time to Climb.
Gratitude is the Attitude that Gives Our Dreams Altitude!!!
Jason "J-Boom" Legaard
Make sure you are subscribed over at mindsetmtn.com/itunes and mindsetmtn.com/stitcher so you never miss an episode.
And if you haven't already, grab our 5 FREE VIDEOS on how to fast track your progress from feeling stuck to striving for success.  mindsetmtn.com/freevideos
Podcast: Play in new window | Download | Embed