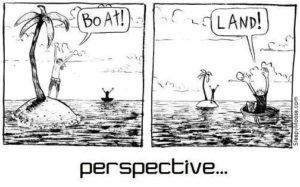 Perspective
How we see events have a great deal to do with our perspectives.
How about the glass is half full/half empty scenario?
Or there is the story of the father, the four sons, and a peach tree in which he sends each son to the tree individually, experiencing it's state based upon one season?
A significant part of how it is we are seeing our lives is based upon many things in life, but let's just touch on a few things here.
Your feelings and emotions may be highly influenced by a past event
Your feelings and emotions can be highly influenced by your conditioning in growing up or what you've been trained for. Examples: Physical and mental abuse; The military; Personal Development
Most important, our self talk and how we choose to see ourselves will highly impact what emotions we choose to feel at various stages in our lives.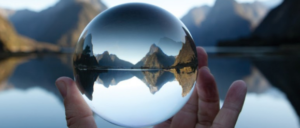 So ask of yourself today…..
"How is it that I see myself?"
"How am I reacting towards others and events?"
"If somebody I respect and look up to were to go through the same thing, how would they go through that which I am going through in a manner which would be positive and get me through my pain quicker?"
These are some little things to think upon to shift your thinking, beliefs, and attitude towards a life of abundance and gratitude!
Time to listen in….
~~Eddie
And a lil something-something…..For those of you wanting to take a simple action that can not only ramp up your results when it comes to your personal development as well as serve those in need, we've got you covered.
We are donating 50% of every sale of our product, Climbing the Mindset Mountain to our brother Robert Thornton and his organization Cloud Covered Streets.
Head over to mindsetmtn.com/climb to make your investment today.
Also, don't forget it's time for you climbers to step up to the base of the mountain and join in with this community of like-minded individuals who are not only striving for  something more, but also have value to offer the community at Mindset Mountain On Facebook!
And one last thing, SUBSCRIBE at  Mindsetmtn.com/itunes or Mindsetmtn.com/stitcher so these episodes automatically download to your devices as well as following the podcast on Facebook!
Podcast: Play in new window | Download | Embed