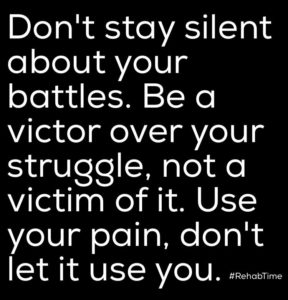 Victor Over Your Struggle
"Don't Stay Silent About Your Battles. Be A Victor Over Your Struggle, Not A Victim Of It. Use Your Pain, Don't Let It Use You"~~ Trent Shelton
Today's episode is based off of personal battle…..along with a simple post that was recently posted by Trent Shelton, a powerhouse on FB (click the link above) with almost 5 million followers
You see, I've been recently battling a lil something within in being me so I can help others
In doing so, I've received what some may call criticism…..I call it insight and perspective, for those looking out for me
Recently I've started doing live videos on Facebook….I've created a routine for my mornings– Wake Up. Grab coffee and water. Post on FB for podcast and in a group my girlfriend, a friend, and myself have created  Work In Progress. Workout. Shoot my live video. Make my Shakeology shake and lunch. Then off to school with the kids.
Well, with the videos, I've started sharing more of me
I've spoken from my mind….most of it, at least, and that is where the struggle has been
I've withheld myself from speaking the way I  do away from the camera
Speaking with a strong voice
Speaking with passion
And sharing my message in a way which may offend some, but definitely resonate with others……and by this, I mean cursing and diving deep into my message at times~~Without Apology!
Listen in to this episode as I've received great advice from friends who know me…..and by creating these live videos, I've been the source of help for others to come to with their struggles
And because of this, I've found a few pieces missing from my training I'm about to wrap up for others…"The Fire Triangle Fix"
Connect with me on FB: www.facebook.com/edward.v.aguilar (message me that you've heard me on this podcast and send me a friend request.
Subscribe to this podcast: Mindsetmtn.com/itunes and Mindsetmtn.com/stitcher
And to get started on fast tracking yourself through your personal struggles: Mindsetmtn.com/breakthrough
Time to listen in……
Podcast: Play in new window | Download | Embed