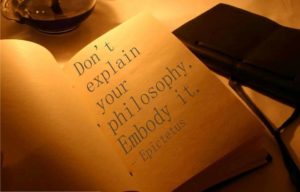 Your Philosophy: What Will Motivate You To Act?
Your Philosophy…..Your Reasons…..Your Why…..Will they motivate you to take action when you feel least motivated to act?
In the book "The Slight Edge" by Jeff Olsen, the emphasis he found during his journey explain it perfect…..
When we're at the level of failure and struggle, we give it all we have to get to the point of survival.
Then we get to that level, and we take our foot off the gas pedal or our routines, not realizing that the next level of success is where we want to actually get to. But that which we did to get to the level of survival, we don't use the same tactics to get to the level of success, causing us to trail back down to failure.
Our philosophies and reasons allow us to focus on ourselves, rather than supporting the dreams and visions of others…..now this isn't wrong to do so, but how many of us support Lebron James, Tony Romo, The Rock, more than we do our own lives?
It's admirable what the above individuals have done…..but do you realize their philosophies and whys are what caused them to wake up, put in the practice, and push through the failures when they least wanted to put in the work?
Your actions will be influenced by your philosophy, your reasons, your why…..and these small but continuous and powerful actions are the difference makers in getting to the top of your mountains, and keeping you atop the valleys which lie below!
Now it's time you do so by listening in first…..then acting today towards your dreams and visions!
~~Eddie Aguilar
Also, be sure to subscribe if you haven't already at: Mindsetmtn.com/itunes or Mindsetmtn.com/stitcher and please leave a review to help other listeners find our podcast and the reasons why they too should subscribe!
And last…..if you are looking for a like-minded community of individuals that are in search of shifting their "mindsets" such as you…..go to Mindsetmtn.com/facebook and click join, then Jason, myself, or one of our admins will get you in to our private community!
It Is Your Time To Climb!!
Podcast: Play in new window | Download | Embed