Staycation Liberation!  Ahhh now this is the ticket folks to relaxation as well as bursting forward into new levels of success.  It's Tactical Tuesday…so let's lock and load.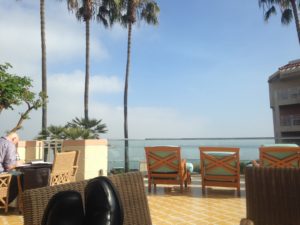 The picture above, including my shoes lol, is from last summer during a weekend I spent in San Diego.
Easily one of my all time favorite cities to me.  It always brings me the powerful and potent combo of feeling incredibly calm in spirit and yet stoked for success!  In today's episode, I want to share how to use a staycation to get both done.
You see… many of us keep grinding, pushing and wearing ourselves down to the bone with our goals and dreams.  And without a doubt, that disciplined work is a necessary element of your success.
But… just as important is knowing when a quick staycation can lead to your next liberation.  Whether that be in rejuvenating your energy or blasting through a sticking point in your progress on a project or idea.
So tune in as I share how to check into your local hotel and hijack back your energy and your effectiveness.  It's time to get tactical and practical when it comes to mastering your mindset.  Let's get after it.  And make sure to share in the comments your favorite staycation or the one you are planning next.  Let's inspire the fire in others to do the same.
Gratitude is the Attitude that Gives Our Dreams Altitude!!!
Jason "J-Boom" Legaard
If you want to show your support in helping Eddie and I continue to provide our unique value as well as our network of high impact friends and mentors 5 days a week…you can do that in three ways.
 Subscribe and Share our podcast.  Every download matters as you can help us spread the good word.
Make your investment in our one-of-a-kind personal development training product, "Climbing the Mindset Mountain."  You will receive a 1.5 hour video training and 2 bonuses.  All to help you fast track your mindset mastery.
Reach out to us by email if interested in our one on one coaching.  We would love the opportunity to jump on a call with you and go farther up the mountain leading you to conquer your inner battles and grab hold of your personal power.  Just email us at jboom@mindsetmtn.com or eddie@mindsetmtn.com
Podcast: Play in new window | Download | Embed