VaNessa Duplessie is a special type of leader folks.
She has the unique ability to "hold space" for those around her in order to help inspire and lift others in their success.  It is a sort of personal power that is truly a gift to those who work with her in life and business.  I felt the photo below with her, Mark Hoverson and Jonathan Budd (one of VaNessa's all time favorites pics) perfectly captures how others express their genuine gratitude for her leadership.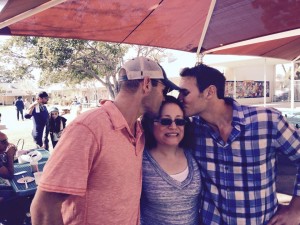 This episode of The Mindset Mountain Podcast was such a distinct honor and treat for me as I've know VaNessa since 2011.  She has always been a supporter and unofficial mentor on my path..and a wonderful friend.
VaNessa Duplessie is an entrepreneur, wife, mom and community leader. She is a coach and mentor who helps others create more time, money and satisfaction in their lives and business. She has spoken to thousands of people on the subject of leadership, personal development & marketing. Her expertise lies in digital and corporate marketing with over 20 years experience drawing in sticky customers to increase revenue and profits. Her main goal is to be a positive voice for entrepreneurs by providing a positive space for conversation and learning when it comes to running a business. VaNessa holds a Bachelor of Science in Entrepreneurship/Small Business Management from San Francisco State University. In her spare time you'll find her spending time with her family, writing novels, or napping; not necessarily in that order.
So kick back and get ready as VaNessa Duplessie brings some seriously deep dive wisdom into the world of personal development and just learning to live life in flow.  I also believe it was the perfect "divine timing" to have her on the show with a new year of opportunities approaching.  Don't miss this opportunity to learn from a true powerhouse of an entrepreneur.
And make sure you connect with her at the following spots:
On Facebook over at https://www.facebook.com/VaNessaDuplessieTraining
And of course here: askladyv.com
Gratitude is the Attitude that Gives Our Dreams Altitude!!!
Happy Holidays and Happy New Year!!!
And if you want to grab your FREE GIFT from Eddie and myself just jingle bell rock your way over to mindsetmtn.com/shiftvideos today.
Podcast: Play in new window | Download | Embed