Steve Harvey was sick and tired of himself.
He was exhausted.  He was worn down.  He was worn out by poverty.
He was just plain sick and tired of it all.  And like the picture below states,
"it's a kind of TIRED that sleep can't fix."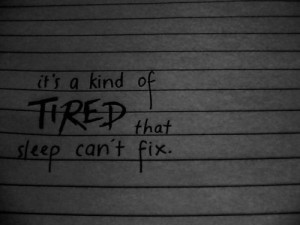 As the New Year approaches, many times these same feelings can overwhelm us.  We feel like we didn't accomplish what we set out to do in 2015.  We let ourselves down, we let others down.  We feel exhausted by all our efforts.  We wonder…How can I WIN in 2016?
Well listen in to this episode of The Mindset Mountain Podcast as I share a passage from the Steve Harvey book "Act Like a Success, Think Like a Success."  It's a very raw chunk of words that expresses what so many of us have gone through or are currently.
But….I share with you that this situation can be the exact thing you needed in order to step up and step out of your past.  Or your present.  You have decisions that can be made and they can only be made by you.  And when you decide it's YOUR TIME TO CLIMB…Eddie Aguilar and I are here to head up that mountain with you.
Make sure to share this episode with others in your life that might need to hear it.
Let's all rise up and leave feeling sick and tired behind.  And right now…it begins in your mind.  With the decision you…and only you..can embrace.
If you want to take advantage of our various trainings here are the links:
5 FREE VIDEO series on "Shifting Secrets" mindsetmtn.com/shiftvideos
Our "Climbing the Mindset Mountain" Training mindsetmtn.com/breakthrough
And if you wish to reach out to us for one on one coaching calls…message us on Facebook or email us at support@mindsetmtn.com
Gratitude is the Attitude that Gives Our Dreams Altitude!!
Jason "J-Boom" Legaard
Podcast: Play in new window | Download | Embed