Will your visions of 2016 bring you home?
That is the topic I chose to share on this Monday afternoon for you all.  As some of you know, I am back in my hometown of Fortuna, ND.  I've been spending time with my parents, my grandma and just overall relaxing and recharging the batteries. (Slept in until 10:21 am the first morning! lol)  The pic below is the house I grew up in.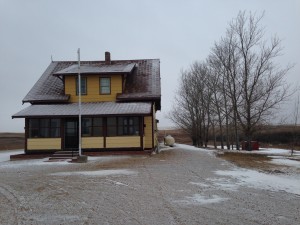 So as I've been reflecting and looking back on being home this week, it brought up some interesting perspectives on the "home" within us all.  The one that maybe our life path has taken us far, far away from over the years.  Our lives many times take us down certain roads we never anticipated.  And sometimes we lose sight completely, for a time, of where our true home resides.  This is the topic I wanted to go deep with you all on this episode as we all look forward to our visions of 2016.
So sit back and relax and let this one soak in.  I want you to spend that time this week, even if only 10 minutes, to truly feel your visions of 2016.  To really go back to your beginning…Your joyful expression of who you really are and always wanted to be in this world.
To start that non-profit, to write that novel, to get your health back…both physically and financially.  To travel to The Netherlands and visit amazing friends.  To meet that special someone that lights you up every moment of the day.  To become an entrepreneur, a leader.
Whatever it is, the visions of 2016 can bring you back home.  And Eddie and I are ready to walk that path with you every single step of the way.
Happy Holidays and wishing you a safe and successful New Year's Eve!
Gratitude is the Attitude that Gives Our Dreams Altitude!!!
Jason "J-Boom" Legaard
Grab your FREE VIDEOS by going here mindsetmtn.com/shiftvideos
Podcast: Play in new window | Download | Embed