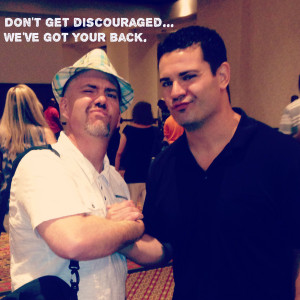 Are you discouraged right now?  Don't be.  Hang on for a minute and then listen in as I tell you why.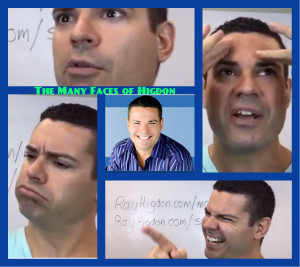 So…as you look up at the image above you are probably laughing and also wondering…what the heck is going on with Ray Higdon lol?!  Well just as my label says in the image, there are many faces to Ray.  And that is a great thing for those who seek success in mindset.
Just yesterday my friend Ray shared a fantastic video about how not to get discouraged and to avoid becoming addicted to the outcome.  He breaks it down in a video/blog post with a perfect combination of humor and in your face insights.  One of the many reasons Eddie and I always dig on hanging out with Ray.
So listen in to this episode of The Mindset Mountain Podcast as I break down my perspectives on being addicted to something far better than the outcome.  And in that addiction, you are able to make daily progress and stack wins.  Oh yeah…and the next thing you know…those outcomes are looking pretty damn sweet!
Here is the link as well to Ray Higdon's blog post and video.  Just click below.
http://rayhigdon.com/mlm-tips-joining/
So enjoy these shenanigans of success from both Ray and myself.  We always do our best to provide the highest quality infotainment.  I mean Thor's hammer and hand crafted graham cracker crust?!  Priceless lol.
Gratitude is the Attitude that Gives Our Dreams Altitude!!!
Jason "J-Boom" Legaard
Podcast: Play in new window | Download | Embed