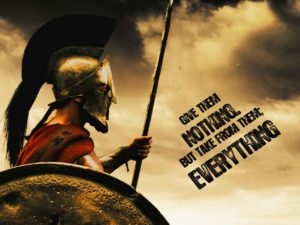 Nothing or Everything.
Which will it be for you?
(Spoiler Alert! If you've never seen the movie 300, you might want to check it out first before listening in on this episode.  Okay now let's dive in!)
A couple of nights ago, a couple of particular scenes from the movie 300 burst into my brain with ferocious intensity.  I hadn't seen the film in some time, (although now probably gonna watch it this weekend lol) but all of a sudden a message flooded my being.
It has to do with what King Leonidas screams to his fellow men as the battle is about to begin.
"GIVE THEM NOTHING!  BUT TAKE FROM THEM… EVERYTHING!!!"
It made me think deep upon the enemy hordes called fear, doubt and our feeling of zero self worth.  And how they show up at our doorstep, just like the Persian messenger in the film, seeking to destroy us.
Their threats start subtle and passive/aggressive.  It is in that very first moment that we define ourselves.  Just as King Leonidas does in the movie 300 when he screams "This is Sparta!" and front kicks the messenger down a bottomless pit.
Are you willing to make your defining decision when that moment comes?
In this episode of Inspire the Fire Friday, you're going to hear me unleash a warrior philosophy that we MUST EMBRACE at the first sign of the enemy within.
This is a war for our very way of life.  Our very purpose.  Our very souls.
Raise your shield.
Grip your spear of destiny and sword of truth.
Scream to the heavens above.
It's TIME TO CLIMB!!!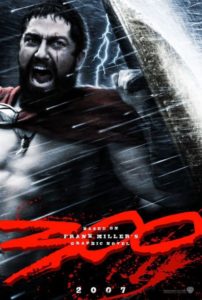 Gratitude is the Attitude that Gives Our Dreams Altitude!!!
Jason "J-Boom" Legaard
Subscribe: Mindsetmtn.com/itunes or Mindsetmtn.com/stitcher (android users)
If you want to show your support in helping support The Mindset Mountain Podcast so we can continue to provide our unique value as well as our network of high impact friends and mentors 5 days a week…you can do that in three ways.
Subscribe and Share our podcast.  Every download matters as you can help us spread the good word.
Make your investment in our one-of-a-kind personal development training product, "Climbing the Mindset Mountain."  You will receive a 1.5 hour video training and 2 bonuses.  All to help you fast track your mindset mastery.
Reach out to us by email if interested in our one on one coaching.  We would love the opportunity to jump on a call with you and go farther up the mountain leading you to conquer your inner battles and grab hold of your personal power.  Just email us at jboom@mindsetmtn.com or eddie@mindsetmtn.com
Podcast: Play in new window | Download | Embed