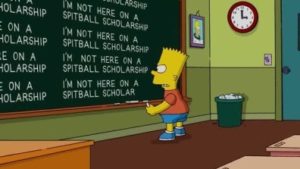 Brainstorming!  Or spitballing ideas is another way to put it.
In this latest solo shot episode, I dive into how I was reminded how many spitball ideas we come up with on a daily basis.  And how most of them we never allow to stick.
You see I jumped on a Skype call with a great friend of mine the other evening so we each could do some brainstorming for one another when it came to various business ideas.
And very quickly as those spitballs started to fly… I noticed that old ideas kept popping up and were receiving confirmation through our conversation.
And that's when it hit me hard… why is it that most of never let those spitball ideas actually stick?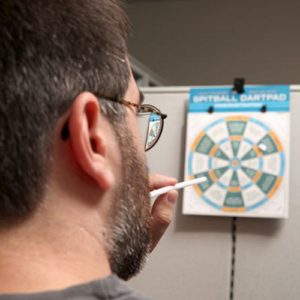 So tune in as I go deeper into as to how you can tap into those old brainstorming ideas and I give you a challenge for the next 7 days when it comes to just one of those spitballs of possible success.
I mean why not let one stick and see what happens?
At least you won't be stuck like Bart Simpson writing on the chalkboard.
But that one tiny idea could be the one that breaks everything wide open for you and your absolute best in 2017.
Time to Climb!
Jason "J-Boom" Legaard
—–
And a lil something-something…..For those of you wanting to take a simple action that can not only ramp up your results when it comes to your personal development as well as serve those in need, we've got you covered.
We are donating 50% of every sale of our product, Climbing the Mindset Mountain to our brother Robert Thornton and his organization Cloud Covered Streets.
Head over to mindsetmtn.com/climb to make your investment today.
Also, don't forget it's time for you climbers to step up to the base of the mountain and join in with this community of like-minded individuals who are not only striving for  something more, but also have value to offer the community at Mindset Mountain On Facebook!
And one last thing, SUBSCRIBE at  Mindsetmtn.com/itunes or Mindsetmtn.com/stitcher so these episodes automatically download to your devices as well as following the podcast on Facebook!
Podcast: Play in new window | Download | Embed