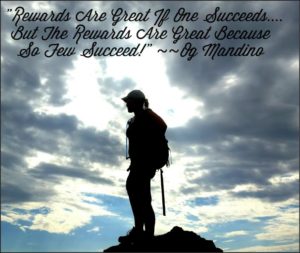 "Rewards Are Great If One Succeeds….But Rewards Are Great Only Because So Few Succeed!"~~ The Greatest Salesman In The World
This morning I decided to dive back into this easy but powerful read written by Og Mandino….and after having read this and underlining it, I sat on these words for some time.
What is it in life which we consider 'rewards'?
What is it in life which we feel we've been rewarded for our efforts, yet truly looking at the so-called 'reward', we are unfulfilled?
It might be that the reward we felt we earned never caused us to grow because we played it safe.
Here are a few kickers to think upon before beating yourself up…..or overly critiquing others and this episode……
We are all at different levels in the game.
Our gifts, blessings, and hungers are unique to us as individuals.
Each reward earned will cause personal growth through resistance.
Time To Listen In!!
~~Eddie
Don't forget it's time for you climbers to step up to the base of the mountain and join in with this community of like-minded individuals who are not only striving for  something more, but also have value to offer the community at Mindset Mountain On Facebook!
And if you haven't already be sure to subscribe to Mindsetmtn.com/itunes or Mindsetmtn.com/stitcher so these episodes automatically download to your devices. And you can follow the podcast on Facebook!
Podcast: Play in new window | Download | Embed