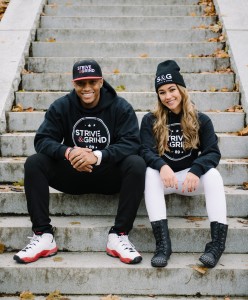 Are you working your balance of Strive & Grind?  Well our two guests on this episode not only are doing exactly that..but they created a high impact, unique style brand as well!
Kick back and hear the crazy ride this power couple has been on as they pursue their dreams of inspiring a whole generation of go-getters and young entrepreneurs that Strive & Grind for a life of purpose and contribution.  Here's a bit of their mission statement:
"We want you to be the best you can be. We want you to live the kickass life you were born to live. We want you to have the experiences that you've always dreamed of. Listen, anything is possible as long as you have a solid foundation of mindset, passion, and grind. It's time to block out all discouraging elements in your life and believe in your ideas, goals, dreams, and most importantly, yourself. No more excuses! Just do it. Make it happen. Risks will be taken, mistakes will be made, and your journey will be scary, but we're here every step of the way.  When you think it isn't possible or feel like you're at your last breath, we're here to push you and make you a believer. Nothing is impossible, as long you keep striving and grinding. Welcome to Strive & Grind!"
Are you ready for this interview? I KNOW I AM!  Let's get into it.
And if you are looking to check out Kevin and Devona and all their rock solid value…click the links below.
And if you're looking to start Striving and Grinding towards the top of your Mindset Mountain..check out what Eddie Aguilar and I created to help you get to the top.  Just click here: Climbing the Mindset Mountain
Podcast: Play in new window | Download | Embed