Speak your truth.  That seems like such a simple and straight forward statement.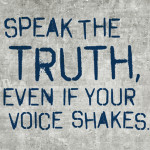 Easy to do right?  Well…not usually lol.
I wanted to share with you on this episode of Tactical Tuesday the success strategies of listening openly and responding truthfully.  For it is in these raw and real actions that freedom is achieved.
You will hear me describe how I was put in a position just yesterday to apply this tactic for myself in a very intense way.  Eddie Aguilar and myself were interviewing our new amazing friend Danny Page.  Towards the end of the interview, something happened.
I had certainly been listening openly, but all of a sudden emotions were unleashed unexpectedly and I had an opportunity to speak my truth.  And for a few moments, I almost didn't.
But then I realized that my service to you the listener is to always and forever respond truthfully with my words, my emotions and my inner demons.  No matter how beautiful, inspiring, ugly and dark…speaking your truth is the ultimate in personal liberation.
So tune in as I break down how you can apply this tactic to your business, your family, friends and probably most importantly…to that voice in your own head.
Gratitude is the Attitude that Gives Our Dreams Altitude!!!
Jason "J-Boom" Legaard
If you want to show your support in helping Eddie and I continue to provide our unique value as well as our network of high impact friends and mentors 5 days a week…you can do that in three ways.
 Subscribe and Share our podcast.  Every download matters as you can help us spread the good word.
Make your investment in our one-of-a-kind personal development training product, "Climbing the Mindset Mountain."  You will receive a 1.5 hour video training and 2 bonuses.  All to help you fast track your mindset mastery.
Reach out to us by email if interested in our one on one coaching.  We would love the opportunity to jump on a call with you and go farther up the mountain leading you to conquer your inner battles and grab hold of your personal power.  Just email us at jboom@mindsetmtn.com or eddie@mindsetmtn.com
Podcast: Play in new window | Download | Embed