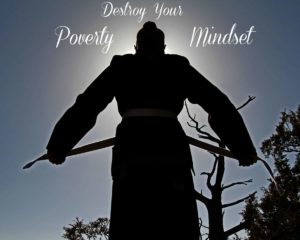 Destroying The Poverty Mindset!
"Playing it safe is not commendable, avoiding risk is not to be rewarded, and living out of fear of what others will think–with their approval and disapproval–should not be what motivates us!"~~T.D. Jakes (He-Motions)
The above quote from one of my favorite book, 'He-Motions', is in reference to Mathew 25:14-29. Whether you follow the Bible or not, this should hold true no matter how you look at life. Are you hiding your talent in the ground for safe keeping?
We are given gifts and blessings in many ways. Examples might be parenting a child, having a job, having a roof over our heads which we take for granted. How about having certain skillsets in life whether it be speaking, writing, communicating, or even running equipment.
Having a 'poverty mindset' forbids us to see and acknowledge any blessings we've been gifted. This mindset keeps us distant from having any gratitude towards the beauties of our lives.
So how do we overcome such a mindset, that of no appreciation for life or a drive to improve and grow?
It's time to listen in as Eddie shares his thoughts in destroying one's poverty mindset, which happens to be a continuous action throughout our lives. It's not about one solution….it's about filling up our toolbox to handle various circumstances in life that tend to sway us from a life filled with gratitude, appreciation, and a rich heart!
Time to listen in!
And now you can find us on Google Play as well!
In fact, We put together a couple of special pages with all the step by step instructions on how to both Subscribe and leave us a 5 Star Review on iTunes.
Podcast: Play in new window | Download | Embed