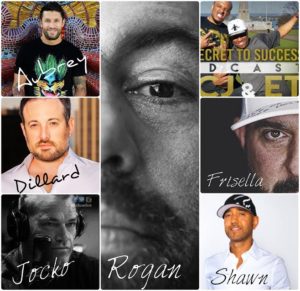 Mindset Mountain's Top Podcasts
What do podcasts do podcasters listen to?
In this episode, Jason and Eddie decide to share their top influential podcasts which inspire them in their personal journeys and those who've had major impacts on their lives.
Jason shares how The Aubrey Marcus Podcast has influenced him and one of his most impacting episodes….. AMP Episode 51
Not only does Jason share the ideas and thoughts of Aubrey Marcus, he vibes with Aubrey's partner Joe Rogan in the Joe Rogan Experience. Jason shares with us how Rogan's interview with the very outspoken Gary Vaynerchuck brought tons of nuggets in Episode #910
And before we get to Jason's third podcast which is one of Eddie's, Eddie shares how CJ and ET The HipHop Preacher's podcast The Secret To Success has influenced him. The he doesn't share any particular episode…..Eddie said to just go check em all out at…. The Secret To Success!'
His second podcast mentioned may not be exactly on his top three, and is more in the top 5, Eddie had to share how Dillard's episode with Garrett White on the Self Made Man Podcast!
The last podcast Eddie and Jason shared was The Jocko Podcast with Jocko Willink and Echo Charles. The most influential podcast for Eddie was Episode 50 with Tim Ferriss.  For Jason, it was Episode 58 had impacted him with the laughter and tears this episode brought.
As they ended, Eddie had to throw in two more podcasts that have been very influential by sharing The MFCEO Project and The Model Health Show which Jason was in total agreement.
One thing they want to share with you is to share what you know! Share where you are finding value, as others may need to be directed towards places they may never knew to look.
It's time to listen in…..then listen in to several of these podcasts which have influenced the hosts of The Mindset Mountain Podcast!!
And a lil something-something…..For those of you wanting to take a simple action that can not only ramp up your results when it comes to your personal development as well as serve those in need, we've got you covered.
We are donating 50% of every sale of our product, Climbing the Mindset Mountain to our brother Robert Thornton and his organization Cloud Covered Streets.
Head over to mindsetmtn.com/climb to make your investment today.
Also, don't forget it's time for you climbers to step up to the base of the mountain and join in with this community of like-minded individuals who are not only striving for  something more, but also have value to offer the community at Mindset Mountain On Facebook!
And one last thing, SUBSCRIBE at  Mindsetmtn.com/itunes or Mindsetmtn.com/stitcher so these episodes automatically download to your devices as well as following the podcast on Facebook!
Podcast: Play in new window | Download | Embed