Connecting with others… a core concept we all seek and need on a daily basis.
This past Friday I had the pleasure of hanging out with a new buddy… Jarred Smith.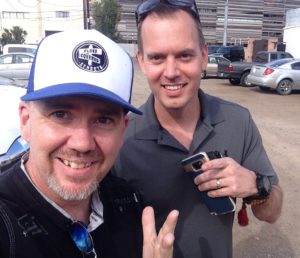 We met up at an awesome little joint called The Original Chop Shop in downtown Tempe, AZ.  Amazing food and atmosphere for sure. The perfect spot to dive into some deep conversations.
So listen in this "Tear it Up Tuesday" as I share an interesting and thought provoking perspective from Jarred regarding connecting and unplugged versus plugging in.
I believe you will be surprised and totally appreciate how he looks at the process of connecting with others in order to allow us all to shine brighter on our journey.
Get ready to get your mindset mashed up a bit… in a great way… with this latest solo shot episode.  And ask yourself today… how can you begin plugging in again?
Gratitude is the Attitude that Gives Our Dreams Altitude!
Jason "J-Boom" Legaard
====
And a lil something-something…..For those of you wanting to take a simple action that can not only ramp up your results when it comes to your personal development as well as serve those in need, we've got you covered.
We are donating 50% of every sale of our product, Climbing the Mindset Mountain to our brother Robert Thornton and his organization Cloud Covered Streets.
Head over to mindsetmtn.com/climb to make your investment today.
Also, don't forget it's time for you climbers to step up to the base of the mountain and join in with this community of like-minded individuals who are not only striving for  something more, but also have value to offer the community at Mindset Mountain On Facebook!
Podcast: Play in new window | Download | Embed