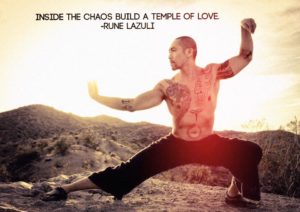 To Know My Essence Is Pure: Chris Tai Melodista
The words Peaceful Warrior and Resiliency are two words which describe this week's guest, Chris Tai Melodista.
As you dive into this episode, you will find yourself enlightened, as well as asking yourself the deeper meanings of what life has in store for you.
Despite the hurts and pains that life brings us, we still have choices.
Choose Kindness.
Choose Love.
Or we can fall into the traps of what toxicity brings us.
What Chris shares with us is the importance of growth.
Chris shares the importance of a tribe.
As we are born, our essence is pure.
Now the question lies in what brings about the pain, anger, and darkness which consumes individuals as we grow?
This journey you are about to embark on will  cause your emotions to stir. This journey will cause you to "scream for life" as a baby gasps for it's first breath leaving it's mother's womb.
One man's journey in search of something greater is inspiring and touching. Better yet, his teachings to help others achieve the same through the Wim Hof Method is coming from a place of service in helping others to connect with their inner selves.
Be sure to learn more about Chris and how he helps others at Be-Jaya.com or to follow Chris on Facebook to learn more about the man you're about to listen to.
Now it's time to listen in!
Also, be sure to subscribe if you haven't already at: Mindsetmtn.com/itunes or Mindsetmtn.com/stitcher and please leave a review to help other listeners find our podcast and the reasons why they too should subscribe!
And last, if you are looking for a like-minded community of individuals that are in search of shifting their "mindsets" such as you. If you are looking for a safe place to share your successes and failures and to be able to get insight from others who are reaching for higher ground in all aspects of life, go to Mindsetmtn.com/facebook and click join. Jason, Eddie, or one of our admins will get you in to our private community!
It Is Your Time To Climb!!
Podcast: Play in new window | Download | Embed