Tom Brady.  Are you like him?  That's a question I wanted to pose on this day after Super Bowl 51.  For if you watched the game yesterday, you were witness to mindset mastery in action at the highest level.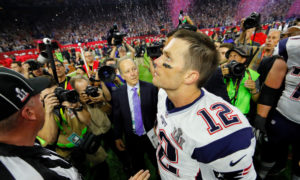 Full disclosure… I've never been a Tom Brady fan or a fan of the New England Patriots.
In fact, I was rooting all the way for the Atlanta Falcons, especially since I have a bunch of friends from the Georgia area. I was thrilled and excited after the first half for all my buddies from the home state of the "Dirty Birds." It seemed as if they truly were rising up.
But then the second half began… and I started to see something all to familiar.
The Tom Brady mindset on full display.
No fear, no doubt, no reckless hoping and praying. Nope… just cool as a cucumber, slow and steady, piece by piece he began the breaking down of that gigantic lead.
So tune in to this Monday solo shot after Super Bowl Sunday to learn how all of us may not be a fan of Tom Brady and the NE Patriots. But all I know is we all could certainly learn to be like him when it comes to the mastery of mindset in climbing and conquering the mountain that was Super Bowl 51.
Are you like Tom Brady when the chips are down? Tune in and find out.
Gratitude is the Attitude that Gives our dreams Altitude!!!
Jason "J-Boom" Legaard
And a lil something-something…..For those of you wanting to take a simple action that can not only ramp up your results when it comes to your personal development as well as serve those in need, we've got you covered.
We are donating 50% of every sale of our product, Climbing the Mindset Mountain to our brother Robert Thornton and his organization Cloud Covered Streets. Head over to mindsetmtn.com/climb to make your investment today.
Also, don't forget it's time for you climbers to step up to the base of the mountain and join in with this community of like-minded individuals who are not only striving for something more, but also have value to offer the community at Mindset Mountain On Facebook!
And one last thing, SUBSCRIBE at Mindsetmtn.com/itunes or Mindsetmtn.com/stitcher so these episodes automatically download to your devices as well as following the podcast on Facebook!
Podcast: Play in new window | Download | Embed