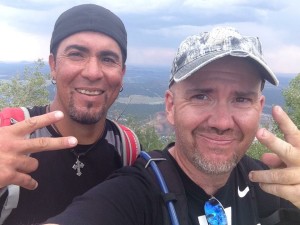 Episode 100!!!  Hell yeah!!!
As I look at that image above of Eddie and I at the top of Mount Elden in Flagstaff, AZ it makes me smile with tons of gratitude.  That pic was taken as we hit the top.
We had just completed half a day on the mountain creating our personal development training, "Climbing the Mindset Mountain."  (We looked quite a bit more tired when we took a pic at the bottom lol.)
Then sometime after creating that product, we started the journey of podcasting.
Man…has that journey been one helluva climb as well!  Tons of lessons learned, stumbles and scrapes and amazing wins.  So as we hit Episode 100 today…we wanted to share 3 main chunks of wisdom we gained along the hike.
Listen in as we talk about how progress not perfection has to always be at the front of our minds.  You will hear how Eddie had to bust me in the mouth not once, but twice to make this concept sink in for me.
You will hear how the concept of consistency can lead to your biggest wins.  Even if it starts with being consistent just one time a week.  Either way, it's in the consistency of creation and mastering discipline that we've hit episode 100.
Last chunk we hit on is how you can always PLAY BIGGER.  One of our most recent guests, Vince Reed, told us exactly that after recording his interview. Gaining feedback like that from other amazing online entrepreneurs is what gives Eddie and I another surge of success energy.
So come and celebrate episode 100 on The Mindset Mountain Podcast today.
Oh and don't worry…we are just starting the climb…BOOM!
Make sure you are subscribed over at mindsetmtn.com/itunes or mindsetmtn.com/stitcher and share this episode with a friend.
Gratitude is the Attitude that Gives Our Dreams Altitude!!!
Jason "J-Boom" Legaard
Podcast: Play in new window | Download | Embed