Don't Worry, Be Happy!
Remember back in the day that super popular, light hearted song from Bobby McFerrin?Man… so what happened to us all since then?
It seems all we do is stress, freak out and dive into anxiety whenever change arrives in our lives.
So… how to be happy when things change.
Now that is the question.  And I'm hoping to provide an answer to that tough question through a flashback story that hit me this morning.
It has to do with being a kid again.  You will hear how when my Mom and Dad moved us from Minnesota to North Dakota, I took it on as a total adventure of awesomeness! (You'll even hear about my cool sleeping bag spot in my Dad's BEAST of a Ford truck.)
I even was able to dig up a pic of me the day we were loading up the truck to leave. (It's the featured pic for this post.)
If you've been struggling with that question of how to be happy when things change, then listen in about my 2nd grade self.  And how many times as an adult, I sure wish I was strong and ready for change as he was.
And if all else fails, just be like this awesome squirrel!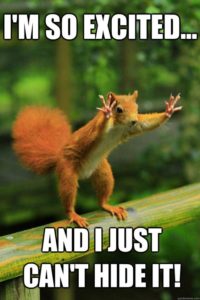 Gratitude is the Attitude that Gives Our Dreams Altitude!!!
Jason "J-Boom" Legaard
P.S.  If you are wanting to take one simple action that can not only ramp up your results when it comes to your personal development as well as serve those in need, we've got you covered.
We are donating 50% of every sale of our product, Climbing the Mindset Mountain to our brother Robert Thornton and his organization Cloud Covered Streets.
All you have to do is go to mindsetmtn.com/climb and make your investment today.
So if you have ever thought about investing in your own mindset mastery, then here's your chance to do it AND help others too!
Don't forget it's time for you climbers to step up to the base of the mountain and join in with this community of like-minded individuals who are not only striving for  something more, but also have value to offer the community at Mindset Mountain On Facebook!
And if you haven't already be sure to subscribe to Mindsetmtn.com/itunes or Mindsetmtn.com/stitcher so these episodes automatically download to your devices. And you can follow the podcast on Facebook!
Podcast: Play in new window | Download | Embed