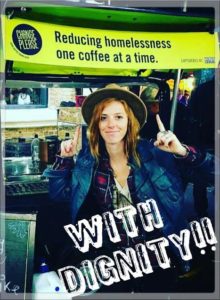 With Dignity…..
Lolly Galvin with the Dignity Project will leave your heart filled with warmth as you hear a bit of her story and what it is she does in helping the homeless!
For those of us that have that yearning to do something in life…..to do something in the world to help others or even ourselves, Lolly's actions prove to "just do it"!!
To step out into the water and learn how to swim….
To help someone who needs a lil help….
To take action upon an idea, as it is an idea, Lolly shares on how to make it real!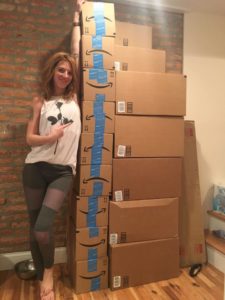 From creating a place on Amazon for you to buy a sleeping bag or hand warmers to help those on the streets…..Click Here
To creating #phillystreetcuts in which the gift of a simple hair cut and the trimming of a beard can change the whole appearance of one who sleeps on the streets!
This episode will leave you in awe of how one's actions can create momentum for a better tomorrow by beginning with simple actions which came from the heart!
It's time to follow her lead and words as she shares with you how to do so…..and we can all do it with DIGNITY!!
Be sure to connect with Lolly on Facebook at Dignity Project…..
As well as following her on Instagram @realhumanist
And head on over to https://www.gofundme.com/DignityProjectJohn to support another cause which she shares in this episode.
Time To Listen In!!
P.S.  If you are wanting to take one simple action that can not only ramp up your results when it comes to your personal development as well as serve those in need, we've got you covered.
Eddie and I are donating 50% of every sale of our product, Climbing the Mindset Mountain to our brother Robert Thornton and his organization Cloud Covered Streets.
All you have to do is go to mindsetmtn.com/climb and make your investment today.
So if you have ever thought about investing in your own mindset mastery, then here's your chance to do it AND help others too!
Don't forget it's time for you climbers to step up to the base of the mountain and join in with this community of like-minded individuals who are not only striving for  something more, but also have value to offer the community at Mindset Mountain On Facebook!
And if you haven't already be sure to subscribe to Mindsetmtn.com/itunes or Mindsetmtn.com/stitcher so these episodes automatically download to your devices. And you can follow the podcast on Facebook!
Podcast: Play in new window | Download | Embed