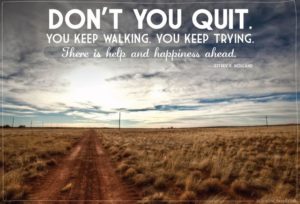 So where are YOU walking these days?
In this recent solo shot episode, I share with you both a mindset hack when it comes to the power of walking as well as some of my back in the day personal stories around putting feet to pavement.
As I got ready to record this latest episode, I randomly grabbed a book from my personal library.  My grasp brought back a book called, "The Quotable Walker" from the Editors of Walking Magazine.
While flipping through the pages, I came across these two quotes.
"Your feet will bring you where your heart is."   Irish Proverb
Immediately underneath it, this quote…
"Men go abroad to admire the heights of the mountains… and yet pass themselves by."   St. Augustine, Confessions
Both of these inspiring quotes brought to mind how important the power of walking has been throughout my lifetime.  I go into more detail with two very specific stories from my past in regards to how those strolls at 3 am brought clarity, raw emotions, power and peace of mind.
And if you wish to grab your own copy of the book I mention in this episode, you can grab it right here over on good old Amazon.  If you are looking for a nice holiday gift for the book fanatic in your life… this one will do the trick.
Here's the direct link:  http://mindsetmtn.com/thequotablewalker
Make sure to go for a stroll of success yourself while listening to this latest episode as I'd love to hear what wisdom and mindset shifts occur for you.
Gratitude is the Attitude that Gives Our Dreams Altitude!!!
Jason "J-Boom" Legaard
Don't forget it's time for you climbers to step up to the base of the mountain and join in with this community of like-minded individuals who are not only striving for  something more, but also have value to offer the community at Mindset Mountain On Facebook!
And if you haven't already be sure to subscribe to Mindsetmtn.com/itunes or Mindsetmtn.com/stitcher so these episodes automatically download to your devices. And you can follow the podcast on Facebook!
Podcast: Play in new window | Download | Embed