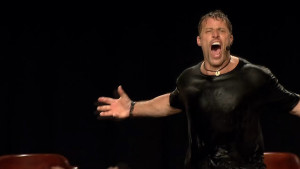 Emotional Fitness…Raaawwwwwrrrrrr! Tony Robbins Smash for Success!!!!
Lmao…don't you think that should be the caption for the above photo?  I mean look at the intensity of his posture, the scream the roar.  Now that my friends is personal power on display.  And it's what I wanted to speak on in a very unique way on this Inspire the Fire Friday.
I had a bit of fun with this one (as you can see from the photoshopped image as well as the intro in the audio) because Tony Robbins and The Incredible Hulk reminded me of how to train our emotional fitness.  To become superhuman when it comes to controlling and mastering our states of being.
You see…Tony Robbins has spoken on changing your state, your physicality, for years when it comes to changing your life and making empowered decisions.  He has spoken how we must build up our emotional fitness just as we build up any muscle, like our biceps.
In fact, I was reminded of this philosophy in a short video from him just yesterday.  And as I watched it, I was reminded of the runaway train power of The Incredible Hulk.
Imagine folks, possessing The Hulk's earth shattering power but using to focus on changing your life, on working on your success.  Whether it be fitness, finances or building a business.  To unleash that level of strength and intensity to the service of our dreams.
Whoa.
I'm tellin ya…pretty amazing results could be created out of thin air…at the drop of a hat.
First, here's the short video I recently watched where Tony Robbins breaks this topic and superpower down for you.
So enjoy today's Inspire the Fire Friday episode as The Incredible Hulk makes a very special appearance on The Mindset Mountain Podcast.  Learn how to master your emotional fitness so you can master your mind.
Once you do….it's your Time to Climb.
And make sure you are sharing these episodes within your network.
Someone in your life might be searching for today's EXACT MESSAGE…don't let them miss out.
Boom!
Gratitude is the Attitude that Gives Our Dreams Altitude!!!
Jason "J-Boom" Legaard
Podcast: Play in new window | Download | Embed