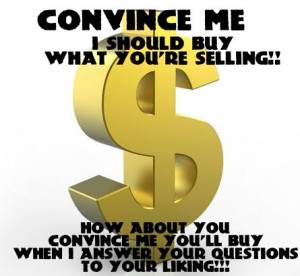 CONVINCE ME!!
Now….Now….before you get all riled up based upon the image…..
I agree, you're not going to throw money at everything without doing some investigating or research
But for some…..it's a never ending demand from individuals who want convincing….even when all questions are answered to one's liking
Then contemplation occurs…..even when there's a money back guarantee, lol!
Well, I recently saw someone telling a leader….someone who has a huge following and proof of major results in helping others…..still, one person suggests this leader convince a $95/mnth worthy of this person's money.
If someone is not for you…..they are not for you!! It's that 'CUT AND DRY'!!
Sean Whalen may be too intense for some, but he provides results…..ask the men he's coached….along with the wives and children of some of these men.
How about Autumn Calabrese of "The 21 Day Fix"…..she provides results too.
The basis of the above image was inspire to me by Mark Hoverson, another leader who Jason and I know…recently played football with his oldest kid and wife …..and who has inspired us, as well as many individuals.
"If I give you my time and answer all your questions….are you going to invest at that moment?" ~~Mark Hoverson
(Click on Sean and Mark's name above to follow them on FB)
Now these two offer free content and value, as well as many others….and as well as Jason and I, here on "The Mindset Mountain Podcast".
For your time, expertise, and the value YOU have to offer the world…..Is there harm in asking for an exchange in money for service?
And how much convincing do I need to give you that Jason and I are driven to help others…..listen in to our episodes if you have doubt…and if you've been listening in, how much more convincing is needed for a $37 investment with a 30 -day back guarantee?
Go to Mindsetmtn.com/breakthrough following this episode and see what others have to say about "Climbing The Mindset Mountain"!
Now it's time to listen in….
~~Eddie
Podcast: Play in new window | Download | Embed