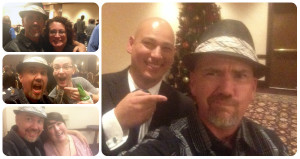 How many times have you heard that word…networking.  I'm sure you've also heard many times it's not what you know, it's who you know.  (I truly believe it's both and that's how you gain the ultimate balance.  Just saying.)
Well in this on the fly episode of The Mindset Mountain Podcast I share why I invested my time to go "cruising" up to Scottsdale, AZ this weekend to attend a mixer after the 2015 Fast Start Summit put on by Greg Gomez III.  How you can make sure you don't snooze and lose out on laughs, building business relationships and possible life long friends.
Enjoy this road trip version of our podcast and help yourself WAKE UP to why you must network your face off!  That's how you can make your climb so much easier.
Make sure you Subscribe to us on iTunes and Stitcher and leave us a 5 star review:
mindsetmtn.com/itunes
mindsetmtn.com/stitcher
And if you'd like more coaching on how to build a powerful network around you, feel free to message me at jboom@mindsetmtn.com and I can get you set up with a call.
Gratitude is the Attitude that Gives Our Dreams Altitude!!!
Podcast: Play in new window | Download | Embed