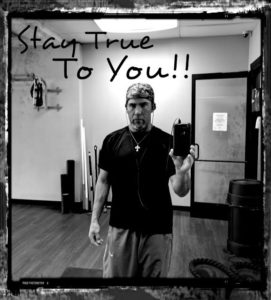 Stay True To You!
What do you see when you look in the mirror?
What do you hear when you're in silence with only your thoughts?
There are times when we know exactly what it is that we see, and when alone with our thoughts we know the exact words and thoughts which we share with ourselves.
But yet……why is it we feel the need to change every single thing in our lives to follow the suggestions of others?
But yet…..why is it we stray from what we know ourselves to be, due to the fear of criticism and judgments of others?
There are certain aspects of life in which you definitely know, for sure, without a doubt, that which will bring you happiness and benefit you which in turn will benefit others.
Yes, we should seek guidance and advice in areas of life in which we plateau out or have reached a certain level, but to seek advice in that which you already know the answers is denying yourself from truth.
Truth is that you do have the knowledge and capabilities.
Truth is that you are worthy of that which you envision when you are alone with yourself.
Truth is, the world needs you to 'Stay True To You' so you can give others permission to do the same!
Time To Listen In!!
~~Eddie
And a lil something-something…..For those of you wanting to take a simple action that can not only ramp up your results when it comes to your personal development as well as serve those in need, we've got you covered.
We are donating 50% of every sale of our product, Climbing the Mindset Mountain to our brother Robert Thornton and his organization Cloud Covered Streets.
Head over to mindsetmtn.com/climb to make your investment today.
Also, don't forget it's time for you climbers to step up to the base of the mountain and join in with this community of like-minded individuals who are not only striving for  something more, but also have value to offer the community at Mindset Mountain On Facebook!
And one last thing, SUBSCRIBE at  Mindsetmtn.com/itunes or Mindsetmtn.com/stitcher so these episodes automatically download to your devices as well as following the podcast on Facebook!
Podcast: Play in new window | Download | Embed