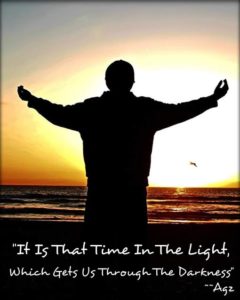 "It is that time in the light, which gets us through the darkness"~~Agz
This post comes with a heavy heart!
Thursday morning, I received news that a young man I recently coached in baseball,  as well as when he was younger, had chosen to leave this world early!
Personally, I battled within to write something or even do a video about this, as the self talk was that of other people thinking my writing was that of selfishness. This I know, and those who know me, know this isn't true. But it's the perception of what others might think or feel that keeps us still in our tracks. It's what we internally instill in ourselves of what others might see as weakness or fragility that causes suppression of action and to hide from our emotions.
The morning of the 23rd of February I received a call from the mother of another young man who I coach, as she shared with me the news of what had happened. There were no details to the reasons of what actually happened, but the fact was that a young man who her son knew well, had taken his life.
So what do I do as a parent?
What do you do as a parent?
What do we do as part of this community in Flagstaff, AZ?
'SUICIDE'
This word makes us cringe, just as the nails slowly screech across the chalkboard. The action of this word forever redirects the lives of many.
As I'm typing this, there is a mother and father who have no idea what life holds for them from here on out. They are good people, just as their son was. The mother's thoughts and visions of seeing her handsome young man courting the woman of his life……have dissipated!
The visions of him holding his first born, setting an example of the type of man his daughter should look for in creating a family…..will no longer come to fruition! Nor will the thoughts of him playing catch with his son or sitting along the banks of a river as they cast out their lines for the catch of the day! It has all been washed away!!
It is in the avoidance of our issues in which the weight becomes unbearable.
It is in teaching our children or telling another adult to suppress their fuckin emotions, that we limit and try to dictate one's character.
Just two nights ago, at 3:30 in the morning I wrote about what it is I just said. Do I apologize for using a fuckin cuss word in my book or in this post, as there might be children who read this. The answer, and many are afraid to admit this, is NO….I'm not going to apologize!!
Don't apologize for your emotions, as they are real. They are what guide you in your everyday life. To ignore them, is to ignore yourself. To ignore them, is to suppress what needs to be released from within us as individuals. And if a child reading an emotion is voodoo, please share this with those who've lost a 'child' to suicide about how important this actually is. They'd rather have their child read or hear 'inappropriate' language if it was meant to get the point across, so they could love on them one more day!
Sooo….What Would I Do As A Parent?
As I've been putting full emotion into the book I'm writing based on the 'effects of suicide', I've been fully tuned into this topic as of late. The irony of it all hit me hard….how I wish this book was already written, but I can't go back in time. I share this because this is exactly where many parents are at at this exact moment as their kids are hurting because of the loss of their friend……wanting to go back in time, but they can't.
After receiving news, I left work to head to my son's school to let him know….if he hadn't already found out. I wanted him to know that I knew, at to not be left alone with his feelings. I had no idea how he would react, but I was certain that he wouldn't be hit as hard than other kids, as the topic of suicide and death is confronted in my home with my two teenage kids.
"Have you heard the news yet?", I asked him.
"Nope, what news?".
"Well, you know C___ from baseball, right?"
"Yeah".
"Well, he's no longer with us. He took his life yesterday. I don't know the details as to what really happened, and it really doesn't matter. Point is, it happened and we need to move forward", I shared with him.
As a counselor walked up to let us know she was there for us, I continued.
"Now there is going to be speculation as to what happened. How it happened. Why it happened. Truth is, only he knows the answer and he's no longer here to share his reasons. Don't get caught up in the bullshit. We've been here before, haven't we? (He nodded) Honor your memory of him by living your life, and helping those of your friends get through this that were closer to him than you were".
He was doing good with the news at this point, but I could see the processing of it was taking place in his mind.
"Now if you need to cry, fucking cry! If you're pissed, be pissed! Do not run from your emotions, and be sure to talk to your mom or Tracy (step-dad) and get shit off your chest. And if we need to talk tonight on the phone, we'll make it happen".
"One last thing…..you want to know what will help you tonight? Work Out!! Get the negative shit out by exercising. And be sure to drink water and hydrate".
Back to class he went
MOVING FORWARD…..
Before we move forward, we need to understand the impact of suicide isn't something new. Actually, the thought of wanting to take one's own life or have it taken away has been written many years ago.
"But he himself went a day's journey into the wilderness and came and sat down under a broom tree. And he asked that he might die, saying, 'It is enough; now, O LORD, take away my life, for I am no better than my fathers.' And he lay down and slept under a broom tree."~~I Kings 19:4
This story of Elijah is a powerful one. I don't care if you believe in God or not, or want to disprove the Bible, this isn't the point. The message has been written and is there as proof that this dilemma we are faced with at times isn't something new. It's just a topic which continues to be swept under the rug, just as one's problems have been hidden until it's too late.
For those of you that are parents and lost in helping your children get through a suicide, there is no one set thing to do. In knowing this, this scares us. We want the microwave solution or to just add water, and all is done, right?!
First things first…..Present a place of safety for your child. A place where there is no judgement upon their feelings and emotions. A place where they need to be heard, and not have their problems solved for them. It is in walking beside our children or allowing them to lead with us at a safe distance that gives them strength in facing their pains and struggles. This is about them…..NOT YOU!
Reminder: Your child is a part of you, and not you. So don't push them into a corner as feelings of being trapped will suffocate their emotions and feelings.
And if you are a big part of their issues……SHUT UP AND LISTEN! They may be wrong in their feelings, don't take it personal. They may be right in their feelings, don't take it personal, but do so in a manner that you fix what it is on your part that needs fixing. We can all learn something from our children….I have, by being called out by them!!
"It is in an attempt to control everything that we come to realize we have control over not one thing!"
OUTLETS
What are outlets for our kids in the need of emotional healing?
I mentioned one outlet to my son earlier…..physical exercise! Take a walk with your kid. Fresh air and sunshine help in times of stress and anxiety. Walk with them, and don't fear the silence if your child chooses not to speak. We fear silence, because we are left alone with our thoughts.
Go to the gym. A bike ride. A jog. Something that will get the blood flowing and oxygen into the body.
Journaling is another release for an individual who doesn't fully know how to express their emotions, as their emotions have yet to be understood. It can be a safe place for them to be themselves. It is a place where they will not be judged, but it is also a time where they may begin to find their voice and make small attempts to reach out to you. This is where your awareness needs to kick in and not take things personal as they are trying to find their voice.
HEALTH
One important aspect which many fail to face during times of stress is their health and diet.
When the body goes through stress during times as such, acid begins to fill our bodies. Headaches, low energy, body aches, etc…..acid is becoming more present in our bodies. The negative charge around our red blood cells dissipates due to the acid causing the cells to clump together, now slowing down the blood flow and the amount of oxygen going to our brain. Not only does the stress have an impact, what we choose to eat can intensify the process.
Lemon water, almonds, and green vegetables are examples of foods which create alkaline to counteract the acidity which is consuming our bodies.
There is much more to this, but I just wanted to skim the surface of alkalizing the body. Feel free to google alkalizing and energizing.
These tips aren't meant to solve all problems of those battling these situations, but it's a start.
A Message For The Young Ladies And Men
There are times in life where you get knocked flat on your asses! At times, it has nothing to do with anything you've ever had control over. It just happens, leaving you standing in quicksand as you attempt to figure out what has happened. You are frozen and unable to move, fearing that any movement will not help as you fear your screams will never be heard.
So you stay still. You attempt to hope your pains away. You attempt to channel your emotions through other means. You may seek comfort in drugs, alcohol, sex, or even lashing out your pains through physical confrontation.
With suicide, there is no closure! This needs to be understood immediately. You seek answers to something that you'll never know, leaving you frustrated and upset that there are unknowns that will continue to hang over your head until you choose to let them go.
You see, you have a choice to choose how to move forward after having lost someone close to you by suicide. You also have a choice in what actions to take when suffering from bullying, abuse, or even self doubt. You have a choice in how to choose to view a loss of any sort or let down in your life. A failed test. A relationship that ends. The cracking of your screen to your new IPhone or Samsung Smartphone. Your reactions are all a choice.
In creating a shell to protect yourself from being hurt, you are denying yourself pure happiness and joy when it is to arrive. It is at these times of sorrow or pain which you should scream, when you want to scream. It is at these times you want to cry, you should cry. It is times when you want to take your frustrations out on someone in a physical manner…..you don't do that, lol, but you give yourself a physical beat down. By that I mean run as far and as long as you can till you can run no further, just be sure you turn back around to head home at some point. You drop and do as many pushups as possible, until you are unable to push the earth away from you body. Imagine the sweat from an intense physical activity as the body's way of shedding tears and releasing the tensions which lie within.
When I speak of darkness, many tend to stray from the topic. It is in such cases they are missing the point, and I don't want this of you as many choose to turn a shoulder to the elephant in the room….hoping it just goes away. Moving forward makes it more difficult, as the issue is never to be addressed, making life more difficult.
YOU ARE NOT ALONE!
There are too many statistics of teenage suicides to prove you are not alone. The factor which many fail to look at are the many successes or stories of individuals having come out of the funks and live amazing lives.
Another truth is that life is not all rainbows, roses, and sweet melodies!
But…..
This doesn't mean that you can never witness the bright colors of a rainbow after the rains have passed.
This doesn't mean that you'll never be able to cherish the sweet smell of a rose as it blossoms before your eyes.
This doesn't mean that you'll never be able to hear the combination of notes that brings us purpose as the vibrations reflect off of our ear drums.
To build a muscle, it must first be torn down. It needs an intense workout to be torn, but the strength and building of the muscle will now rely on how we tend to the body as a whole, to repair the muscle. The muscle now begins to take shape and benefit us.
Unfortunately in life, you will be torn down at times. You will go through unexpected pains, but to continue forward and tending to yourself through the many means possible, you will have created an inner strength. A strength to deal with life's ups and downs. Experience in facing issues head on, so you can continue on with life.
Life is a blessing that has been gifted to you. You did not ask for this, but are you truly not wanting to receive this gift?
I may not have the answer in this post to take any pains away from you, but it does not mean that the answer for you does not exist. That answer you seek lies within you, as I want you to remember that you are unique.
Fear hits us all in some form or manner.
Fear of this message not reaching someone, hits me.
The fear of criticism and judgement hits me as well.
Through the messed up spellings or terms I use in this, to the run on sentences and my dot….dot…..dots……..I am proving to you that we do not need to be perfect, but to be perfect in the process of becoming who we are called to be.
Last night, my daughter's Godmother messaged me to take the time to write something of substance and some tips. Something other than a simple copy/paste post with the suicide hotline number. She asked me, because she to is trying to understand how to help others in ways she's unable to.
Falling to your knees in prayer does not make you weak. Seeking help, does not make you soft. Being confused and lost does not separate you from the masses, trust me on this.
The point is to not stay in the pains and hurt. Don't stay in the pains and struggles and allow them to create your identity. By this I mean there are some who identify themselves as a person with cancer, as others fight to identify themselves as that person who has whooped cancer's ass.
Your identity is to be that of one who overcomes obstacles throughout time.
Your identity is to be that of one who doesn't fear to love for the chance of being hurt.
Your identity is to be that of one who helps others, but first helps themselves so you may become a better asset in society.
Your identity is to become the person you are meant to be….
BE YOU!!
And in being you, begin with not showing judgement towards the family that has recently had it's world shaken up and altered in a major way. Pray for them, as they are good people. He was a good young man who I never would have seen do this to himself. Unfortunately, we can not go back in time to intervene.
Today is a blessing you've been gifted….Embrace this gift!
"It is those times in the light, which will get us through this darkness"
~~Eddie
For those of you needing further assistance, feel free to email me at Eddie@Mindsetmtn.com I will get back to you within 24 hours.