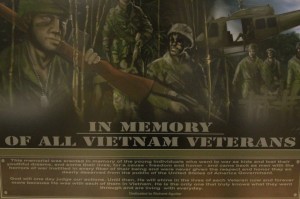 The above is a picture which hangs at the American Legion, Cordova Post 13 in Williams,AZ.
This display had been dedicated to my dad, a 'purple heart' recipient and Vietnam Vet who served with the Cavalry.
You see, when the Gulf War broke out, or when Desert Storm had started, I went to my dad to speak to him about enlisting as an 18 year old.
Thinking this would make him proud to have his first and eldest son follow his steps for the country he once served for, I found out that I couldn't be more wrong.
As a kid, I saw the after effects of the war.
I saw the lingering wounds never begin to heal, as he was bitten by the poison of having been part of a war, losing friends to this same war he became a part of, and most important the emotional pain it brought to his life.
The stories he shared of traveling the country to find himself but to not fear dying by the hands of another, but actually testing the will of other men, he was lost…..
He was in pain….
He was not to be the man he was before he went off to war.
You see, after I shared my thoughts, he did everything in his power to persuade me otherwise…..he shared with me…..
He had served for this country……for me…..
My uncles had served for this country as well….for me…..
Both of my grandfathers had served for this country…..for me…..so I wouldn't have to, as my family had done their share to allow me to not do the same.
Whether you are in agreement or not, these were his thoughts.
In life, there are times where we are hit with things in which we wouldn't wish upon others.
In life, there are times where we are hit with things which have redirected and reshaped our dreams and passions as young men and women…..an war is one of those things our soldiers have encountered as the thing that shifted life for them.
Some of them escaped the pitfalls and traps of battle…..
As others are still there internally, having never finding the peace in which they've fought for.
Yes, I chose to listen to him, but I saw that the fear for him was not for me to become a statistic of war as of having lost my life in the process…..
It was a fear of having survived a war, but still yet……losing life in myself.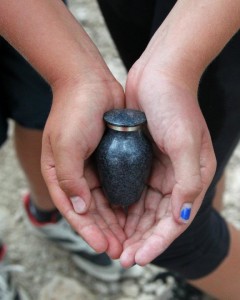 As this Memorial Day is upon us, my father is no longer with us…..
But he has given me the wisdom he has learned from his pains and lessons he has found in healing himself, as well as assisting in the healing of others.
Above is what resides of my dad as his ashes have been spread on hikes and elk and deer hunts, as he had shared the beauty of the woods with me as a kid.
So on this day I want to leave you with a few things as I've witnessed from the outside…..but I still have no idea as I have not lived the lives our soldiers have lived.
When you are a part of something in which a bond has to be created and a trust has to be initiated at a rapid pace for survival…..this becomes a bond which strengthens like no other……
But when the bond is altered by the loss of life, there is no time for mourning…..
There is no time for healing, as survival is the key in each hour, as the past hours are left in the dust for they no longer have the importance….because the present continues becoming the important moments of life.
You see, when soldiers return, they come back having lost a part of themselves as it was required to do so for them to survive….
Their purpose now has internally become a question…..
And the flipside is……some never return with life in them.
THIS MEMORIAL DAY MEMORY
Thankfully all soldiers don't go through the process I've explained above, but many have done just that.
So on this day, we have several ways to show gratitude for our soldiers serving and having served…..
A silent prayer in your own home…..
A post on a social media site…..
A blog post such as this…..
A video created to show a gratitude of thanks…..
Now the above is an expression of gratitude for many, but don't just leave it at that.
Why just leave it to this day?
How about you live today and tomorrow, as your life has been given an opportunity by those who have served?
How about shaking the hand of a soldier from time to time following looking them in their eyes, as they are willing to put their lives on the line…..or have just done so?
Don't just make today a day of gratitude for our service men and women……
Create a life for you and yours, as lives have been sacrificed for you to do so……
And for you to not do just that, in my opinion…..is not showing a respect for others who gave of themselves for their loved ones…….
As they were also giving to you and I!
Blessings to those who've served…..
And blessings to you who have the opportunity for an abundant life, in part, due to our service men and women.
~~Eddie Aguilar