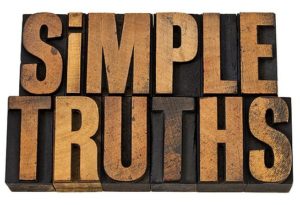 Simple Truths
With all that has transpired this past week with the officers taking the lives of two black men, as well as what had become some backlash from this taking place in Dallas…..let's say this world, especially the U.S. has sensed a great deal of tension.
The truth is there are shitty people of all races…..
There are horrible individuals that are both male and female…..
There are certain organizations which contain a few bad seeds……
The simple truth the chaos seen has begun dividing certain individuals, based upon what is being fed to us on the outside.
As I've personally experienced, there are always two sides, if not three sides to the story…..my side, your side, and the truth.
Those of us striving for something higher need to learn to take the time to think before we speak or act in reference to an event which didn't personally have an immediate impact on our lives.
So as you dive into this episode, the simple truth is there are truths out there which we may never know…..
Where there is evil….there is good
Where there is darkness….there is light
Where there are lies….there is a truth!
Listen In…..
Also, be sure to subscribe to The Mindset Mountain Podcast at: Mindsetmtn.com/itunes orMindsetmtn.com/stitcher
If you want to show your support in helping support The Mindset Mountain Podcast so we can continue to provide our unique value as well as our network of high impact friends and mentors 5 days a week…you can do that in three ways.
Subscribe and Share our podcast.  Every download matters as you can help us spread the good word.
Make your investment in our one-of-a-kind personal development training product, "Climbing the Mindset Mountain."  You will receive a 1.5 hour video training and 2 bonuses.  All to help you fast track your mindset mastery.
Reach out to us by email if interested in our one on one coaching.  We would love the opportunity to jump on a call with you and go farther up the mountain leading you to conquer your inner battles and grab hold of your personal power.  Just email us at jboom@mindsetmtn.com or eddie@mindsetmtn.com
Podcast: Play in new window | Download | Embed