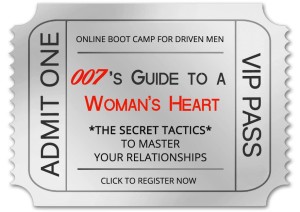 In this latest episode of The Mindset Mountain Podcast…we embrace our inner James Bond.  Why?  Well you see Mr. Bond always is moving towards completing his mission, no matter what else is in his life.  Surprisingly, this quality allows him to attract the most intriguing and gorgeous women it always seems in the movies.  Want to find out how?
Well then put on your best tuxedo, lock and load your Walther PPK and turn on the podcast app in your Aston Martin.  Dr. Sky Blossoms is about to share with you decades of insights on how to be more like Bond and live an empowered mission focused life.  And what's amazing is that Dr. Sky Blossoms doesn't deal with woo woo or romantic fantasy thinking.  For her, it breaks down to skill sets, logic and having a plan on how to live YOUR maximized life.  Which in the end, allows men to attract the maximum in their love life.
Make sure to sign up today for her Free Online Boot Camp for Driven Men which starts October 27th.  Just click here mindsetmtn.com/007
If you wish to reach out to Dr. Sky Blossoms for more coaching etc. check her out at the following:
On Facebook at Dr. Sky Blossoms and also her website bestthingever.com
So remember, when it's your time to climb, hike like Bond!
Podcast: Play in new window | Download | Embed